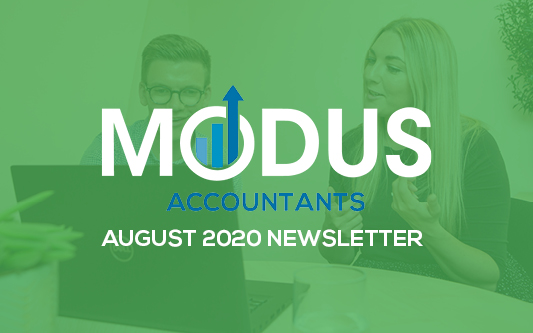 Modus Accountants Newsletter – August 2020
Welcome to the Modus Accountants Newsletter. Read about this month's news, events, new customers as well as our thoughts on important updates to legislation.
Modus Accountants Newsletter Introduction
Sam Dallimore, Modus Accountants Director – Latest information on the Job Retention Scheme, PAYE & NI Liabilities.
Webinars
Modus Facebook Webinar: Creating the strategy to power your business into 2021
12th August at 2pm
Identify business strains
Structure your strategy
Q & A session
Get a taster of the support you can expect from Modus.
Modus Partner Network Webinar: Funding your Innovation with TBAT
26th August at 5:30pm
Current UK Grant Funding landscape
How to access Grant Funding
Top Tips for writing an application
What is R&D Tax Relief
How to claim R&D Tax
This is a great opportunity to identify the innovation funding available to your business and how to access the beneficial schemes.
Free 1 hour business review
We realise that now is a challenging time for all businesses and we are keen to do our bit to help you get back up and running and thriving as lockdown eases.
As with last month, we are keeping our diaries open for FREE one hour business review sessions with our in-house team of chartered accountants and business experts. These sessions will provide you with a complimentary free business health check, financial review and an introduction to the further support we can offer.
New Modus family members
This month we welcome the following businesses into the Modus family:
Hopkin Enterprises Limited
HSML Limited
Weber Real Estate
Green Oak Investments Limited
Bicester Lettings Limited
The Cotswold Physio Rooms Limited